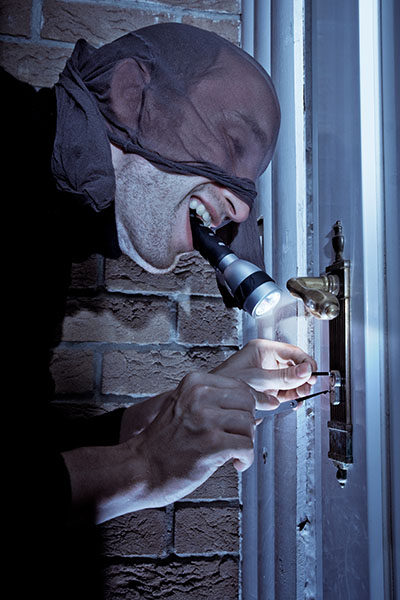 Who said that burglars are not smart? They actually know a lot about door locks and how to break-in. That's their job! The point is to outsmart them! By relying on a hollow door and wrongly installed bolts, you just make their life easier. Intruders don't have to use their brains at all since they can just kick down the door and enter the property. The question is whether you use your brain in the right way to avoid burglaries altogether and fortify security.
The quality of the security door locks is of the essence, but not the only criterion to avoid intrusions. Security matters and their solutions are not always straight forward. You have to consider different factors and look at the subject from different angles. One of the most crucial things is the requirements of your own home. Do you live in an apartment or a big house? Your concerns and the measures taken will be different depending if living in an apartment with one main door and a few windows than having to secure a house at the ground floor with multiple entry points. Still, this is only the beginning of your long trip towards more secure days.
3 ways to outsmart burglars
You have to be smart in three different ways. Once you established the main needs of your own house, detect its weakest points, the number of the entry points and your own lifestyle, it's time to take a few steps further.
*Do you want to outsmart burglars? Send them the right message saying just that. Lock replacement is crucial. By replacing the locks in time before they start creating problems repeatedly, upgrade security. Choose the right systems. Make sure the locks are durable and tested for their reliability. Today, there are marvelous choices for all doors and windows but you must be extra careful during lock installation. Improper installation would cancel their resistance.
* Another smart step is to take proper care of the locks. Don't make the mistake of neglecting them completely. If you see that something is wrong with the cylinder or the strike plate, lock repair is in order and must also take place as soon as possible.
* Do you want to be really smart? Although, you own strong doors and locks, it doesn't mean that security measures can be placed on the wayside. Locking all entry points even when in the house is of utmost significance. Don't leave the window of the apartment open and go away just because it's on the second floor. Burglars have their ways of finding access so don't let them fool you. Fool them instead!